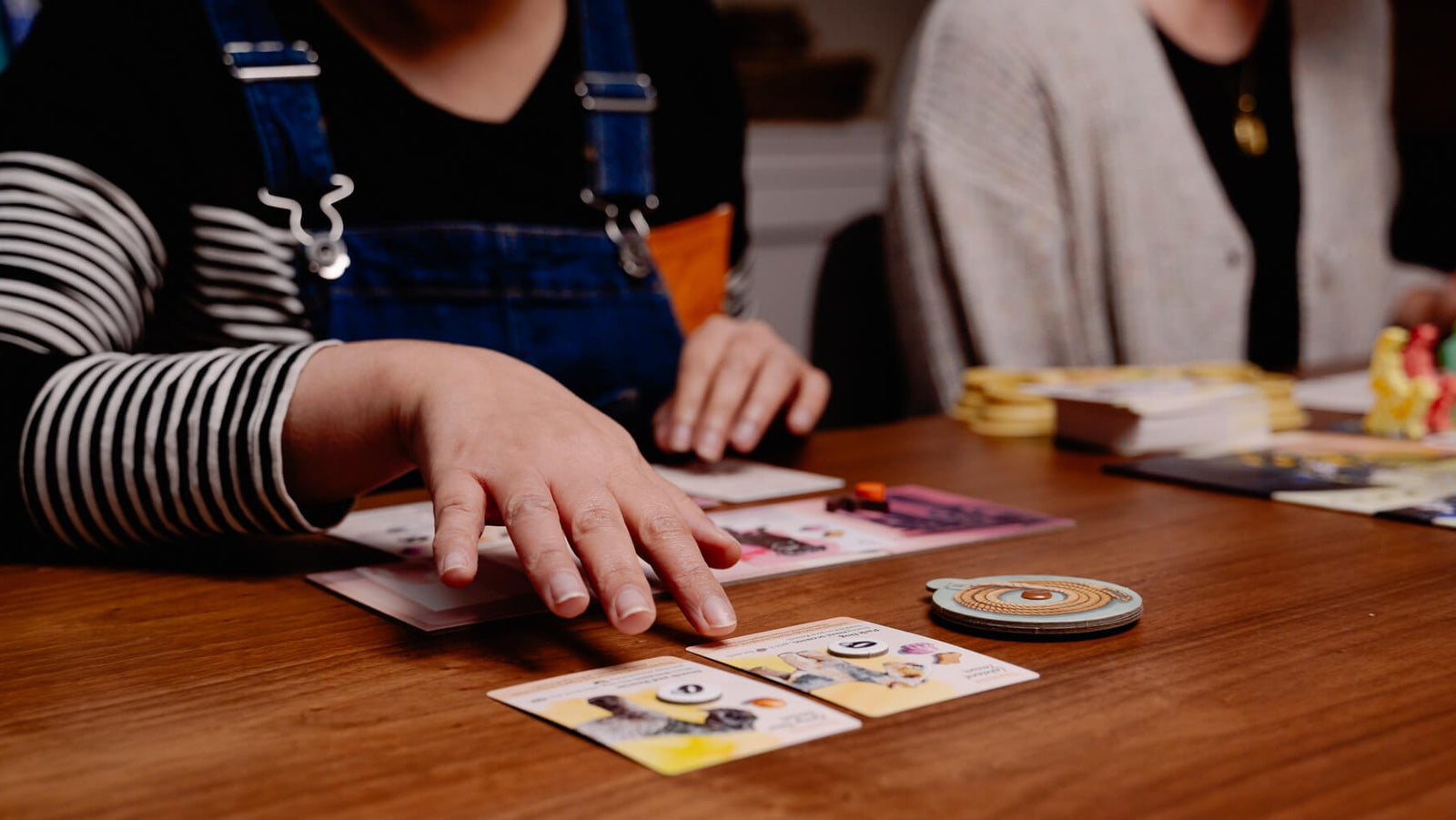 Are you looking for a new animal themed board game for game night? Try one of our ten favourite titles.
Did we miss your top pick? Share it with us on Instagram or Twitter.
Cascadia
1-4 players, 30-45 minutes, Age 10+
The animals of Cascadia - bioregion of western North America - are the stars of this puzzly, satisfying game. Strike the perfect balance of wildlife placement and habitat management in order to win the game.
The Isle of Cats
1-4 players, 60-90 minutes, Age 8+
Cat-lovers, unite! In the Isle of Cats it is your task to save a collection of colourful felines and transport them on your boat in the most efficient way possible. If your happy place can be found in the Venn diagram of Tetris and cats, this one is for you.   
Creature Comforts
1-5 players, 45 minutes, Age 8+
A hygge board game if ever there was one. In Creature Comforts you play as woodland critters preparing for the winter. But you're not just stocking up on acorns - your creatures prefer soup and comfortable rocking chairs to create a cosy den. 
Dog Park 
1-4 players, 40-80 minutes, Age 10+
Featuring over 160 dogs in the base game (and another 58 in the expansions!) Dog Park is the ultimate game for dog lovers. You'll be trying to prove yourself as the most accomplished dog walker of them all by recruiting, walking, and caring for all of your favourite dogs.
Sign up to the Birdwood Games newsletter to be notified when Dog Park will be ready for purchase in Autumn 2022.
Winterhaven Woods
1-6 players, 15-20 minutes, Age 8+
This small box game features clean, serene artwork and easy-to-learn gameplay. Build you woodland up over the course of a game to prepare the animals who live there for the winter.  
Everdell
1-4 players, 40-80 minutes, Age 13+
The cleverly designed gameplay and beautiful art are two of the reasons why Everdell is one of the most popular games of the past few years. If you like the sound of building a town of delightfully whimsical creatures, then you will love immersing yourself in the world of Everdell.
Dinosaur Island
1-4 players, 90-120 minutes, Age 8+
If you like your animals a little more prehistoric - and you're after a game with a big table presence and a longer play time - then the family of Dinosaur Island games is for you. Create the most successful dinosaur park and you'll win the game!
Wingspan
1-5 players, 40-70 minutes, Age 10+
A truly modern classic and an excellent game for any twitcher. Wingspan is an elegant and intuitive engine builder that is deeply thematic. It is also still a growing game! Check out the available Wingspan expansions for birdlife on particular continents. 
Evolution: Climate
2-6 players, 60 minutes, Age 12+
The vivid art in this game brings the theme of evolution and ecosystems to life. As you play, you'll create new species that are trying to survive an ever-changing and often harsh climate.
Piepmatz
2-4 players, 20-40 minutes, Age 12+
Small enough to fit in your pocket, but offering complex choices and surprisingly deep strategy, Piepmatz is the perfect pick for a detail-orientated bird lover.