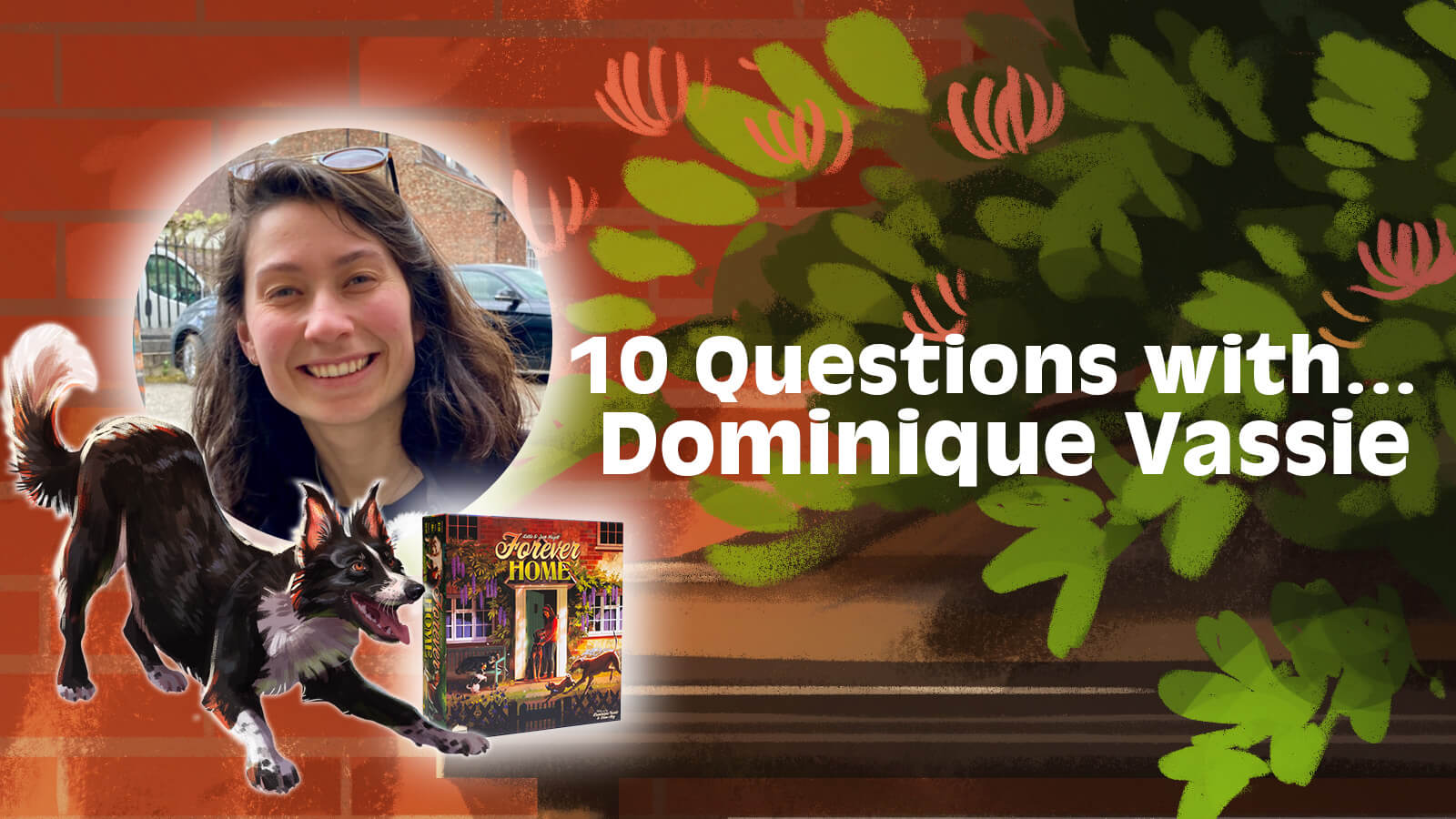 Dominique is a freelance artist and designer from the UK with an academic background in biology. Her work varies from natural-history illustration to painting fantasy worlds and when not making art, she can usually be found looking for insects.
VisitDominique's website. Follow Dominique on Instagram.
1. What was your journey to becoming an artist?
Like many artists, I enjoyed drawing as a kid but just never stopped loving it and I studied art until I left high school at 18. I was very torn between studying art (animation specifically) and biology at university but, in order to keep my options open, I decided to study science and keep working on art in my spare time instead. My love of nature and my love of art are quite inseparable though. I learned to draw animals because their biology fascinates me and I love learning about the natural world because it is so beautiful and inspiring. I have shared my art online for many years and over time that's mostly where my client work has come from, but my biology background means I sometimes do jobs which lean more towards that than art and I love being able to mix the two.
2. Describe your art in three words.­
Nature, connection, vivid.
3. What's your favourite thing about being an artist?
I find creating things very satisfying and like how I can apply the skills I learn doing artwork for clients to my own personal work in a very direct way. As an artist, it's so lovely to be able to show others a window into how you think and what you find interesting or beautiful. I can also do most of my work from anywhere which means I can enjoy wandering around a lot!
4. What's the strangest job you've had outside being an artist?
The job itself isn't that strange but I worked as an assistant English language teacher in Japan a few years ago and one of my schools had only 2 students and was on one of the country's most active volcanoes called Sakurajima. Every day there was an adventure and a surprise as I'd turn up to find I was also joining in sports or teaching art or helping in cooking class or some other event. It was fun!
5. What's your most surprising passion or hobby?
I don't think it's surprising to anyone who knows me but I love insects and invertebrate animals and I have raised three species of moth as pets in the last few years. Caterpillars are just too cute! I also acquired some microscopes last autumn and have been loving going on adventures through bits of moss looking for microscopic animals. Can't beat the joy and wonder of seeing a tiny water bear (tardigrade) stomping around or watching a rotifer hunting for snacks using its hairy wheel-like arms.
6. What's the best piece of creative advice you've ever received?
If you want to learn to draw animals, learn their anatomy from the inside out. Doesn't have to be in scientific detail but understanding the basic form of a skeleton and how the muscles relate to it (for vertebrate animals) or a bit about the many ways invertebrate animals' bodies work is so valuable. Made a world of difference to my ability to draw living things!
7. What's your favourite illustration in Forever Home and why?
One favourite is the croissant-dropping kitchen scene illustration because of its warm energy and I like the colour scheme. This was the first piece I did for Forever Home and, as someone who is much more familiar with painting nature than the interiors of houses, I learned so much painting it and was really happy with how it came out. But I do also like the bathroom painting as it's just so fun and energetic and I enjoyed researching how water looks as it flies off a shaking dog.
8. What attracted you to working on the Forever Home project?
I had never illustrated a board game before and have always loved drawing dogs so Forever Home seemed perfect! I often sketch my family and friend's dogs from life so a chance to put all those years of learning to draw dogs to the test sounded so fun. The game is also about rehoming dogs which I think is a sweet theme and gave me the opportunity to draw all kinds of lovely unique dogs who don't necessarily fit under a specific breed category.
9. What was your favourite part about illustrating Forever Home?
I really enjoyed finding real dogs to inspire the ones in the illustrations, particularly the training cards. Quite early on I was getting frustrated when I image-searched certain breeds and would only get flawless supermodel dogs coming up in pictures which didn't look so much like the average dog I know. So I decided to instead find and paint real dogs from animal shelter websites or dogs that belong to people I know where possible. This was also useful for finding those unique mystery mixed-breed dogs to include and older dogs with their greying faces.
10. If you had to choose one dog to adopt out of those illustrated for Forever Home, which would it be and why?
I think I'd have to go with the scruffy mutt in the bathroom shake illustration. I think she's so unique with her rough brown-grey coat, pointy ears and three legs and looks like such a joyful pup!